Assuring you of a comfortable stay at Knabbs Ash B&B.
We are confident that in our B&B you will be very pleased with the quality of the accommodation, the breakfast and the service. Visitors to Knabbs Ash can share this confidence in the knowledge that quality checks by various tourist organisations are regularly carried out to ensure that we meet and maintain the standards they specify.



Knabbs Ash is registered with 'Visit Britain', and has been awarded a FOUR STAR rating, with the additional GOLD AWARD for the exceptional standard achieved. The 'Visit Britain' council (previously the English Tourist Council) is responsible for regular checks on the quality of accommodation and service provided.
Click on the logos to visit the relevant pages on the 'Visit Britain' website.

The Michelin Guide provides details of high quality accomodation, and we are pleased that Knabbs Ash is judged to exceed that standard for inclusion in the guide.
Click on the logo to visit the Michelin web-site.

Knabbs Ash is listed in the 'The Good Bed & Breakfast Guide 2005' by Which? Books, and in 2003, was included in the top 20 bed and breakfast establishments in the UK.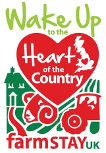 Farm Stay UK promotes rural accommodation on farms & country properties throughout the UK. By listing Bed and Breakfast, Self Catering Cottages, Bunk Barns or Camp Sites, Farm Stay offers something for all.
Click on the logo to visit the 'Farm Stay UK' website.


'Welcome to Excellence' has established a range of training programmes, which are offered through regional tourist organisations.
Having sucessfully completed the 'Welcome Host' training programme which "concentrates on improving customer care", we are permited to display the 'Welcome Host' logo.